The Specifications of Stainless Steel Seamless Pipe at Zhehengsteel
Stainless Steel Seamless Pipe is a kind of long strip steel with hollow section and no seam around.The thicker the wall of this product, the more economic and practical it will be. The thinner the wall, the higher its processing cost will be. Below are the specifications of Stainless Steel Seamless Pipe at Zhehengsteel:
Material: 304/L/H, 316/L/H/Ti, 321/H, 317/L, 310S, 2205, 904L, etc.
Features: 310S high temperature resistant steel pipe and large diameter stainless steel pipe. Stainless steel heat exchange tube, stainless steel coil, extra long stainless steel seamless tube, stainless steel small diameter steel tube.
Production group distance: outer diameter Φ6~830mm, wall thickness: 1~60mm.
Normal single length: 4 meters - 8 meters, the length is generally 6 meters.
Delivery status: pickling and solidification treatment.
Production standards: GB/T 14976, GB/T14975, GB13296, GB/T12770, GB/T12771, ASTM A312/312M, ASTM A213/A213M, ASTM A269, JSI G3459-2004, JIS G3463-2006, and the like.
Application features: fluid transport applications.
Use of the environment: no rust, corrosion resistance, heat resistance, high temperature and low temperature, high hardness and high strength, smooth and beautiful decoration.
Applications: petrochemicals, fertilizers, electric power, boiler heat exchangers, ships, environmental protection, machining, paper, food and beverage.
zheheng steel is one incorporate of manufacturer, trader, consultant, stockist company specialized in the area of stainless steel tubing, pipe fittings, valves and other stainless steel grade accessories. It is one-stop-shop company, our team have more than 20 years experience in stainless steel field, especially in heat exchanger tubing and large diameter pipes with ultra-long, ultra-thin, ultra-thick or ultra-large various and some special-purpose projects.
If you are looking for the best Stainless Steel Seamless Pipe, you can just contact us at [email protected]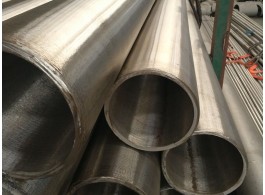 Previous: >> Benefits of Seamless Steel Pipe
Next: >> Newest Ads about Stainless Steel Pipe China on October 29th, 2018