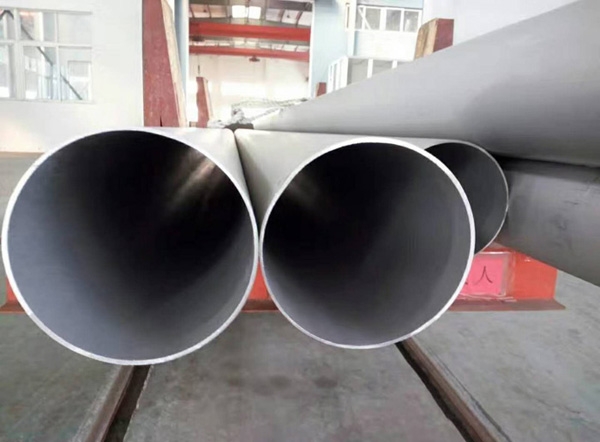 ASTM A312 large diameter stainless steel pipe
zheheng steel is one incorporate of manufacturer, distributor ,consultant ,stockist company specialized in the area of 316L stainless steel pipe , large diameter stainless steel pipe ,thin wall large diameter stainless steel seamless pipe ,pipe fittings ,nickel alloy and other stainless steel grade accessories
Price:US $ 260 - 400 / Ton

ASTM A 312 large diameter 1000MM thin wall 316l stainless steel pipe
The seamless stainless steel pipe is simply a pipe without a weld joint or a seam in contrast to welded or seam pipe. In this seam pipe, a seam or weld joint is a weak point of pipe limiting the strength of a pipe in order to strength of a weld joint. But, this seamless pipe does not even have any such joint and hence has uniform strength and structure throughout the body of a pipe. Therefore, the seamless stainless steel pipes are used in wide applications such as chemical, petrochemical, automotive, oil and gas, refinery, fertilizer, structural and mechanical applications.
316l thin wall large diameter stainless steel seamless pipe Chemical composition %
C ≤20.03
Si ≤21.0
Mn ≤22.00
P ≤20.045
S ≤20.030
Ni: 10.0 to 14.0
Cr: 16.0 to 18.0
Mo: 2.0 to 3.0
Heat treatment
Melting point: 1375~1450C;
Solid solution treatment: 1010~1150C.
Mechanical properties of 316L stainless steel:
Tensile strength (Mpa) 485 MIN yield strength (Mpa) 170 MIN elongation (%) 30 MIN area reduction (%) 40 MIN 316L stainless steel density 7.98g/cm3, hardness HRB<90 HV<200 HBS<187
we are aslo supply other production Standard and Grades ;
O.D: 21-711mm W.T: 2.-60mm Length: 5.8m, 6m, 11.8m, 12m, with bevelled or plain ends
API 5L
Gr.B, X42, X46, X52, X56, X60, X65, X70, X80, X90
ASTM A53
Grade A, Grade B,
ASTM A106
Grade A, Grade B, Grade C
ASTM A335
Grade C, P9, P11, P12, P22, P91
ASTM A333
Grade 3, Grade 6
EN10210-1
S235JRH, S275J0H, S275J2H, S355J0H, S355J2H, S355K2H
DIN 2391
st35, st45, st52
DIN 17175
st35.8, st45.8
Seamless Stainless steel pipe specification / dimensions / size / standard / steel grade / material
Brand :zheheng,
Certification :ISO, SGS, BV, CE or as required
Thickness :6mm-40mm
Length :3000mm, 6000mm, 8000mm, 12000mm or as required.
Surface :Commonly mill finished surface
Standard :ASTM,JIS,EN,DIN,BS,GB,etc
Delivery time :3 days after confirming the order
MOQ :1 ton or 1 pc
Country we export to :
Gabon ,Gambia ,Georgia ,Germany ,Ghana ,Greece ,Grenada ,Guatemala ,
Guinea ,Guinea-Bissau ,Guyana
Product show and packing:
,