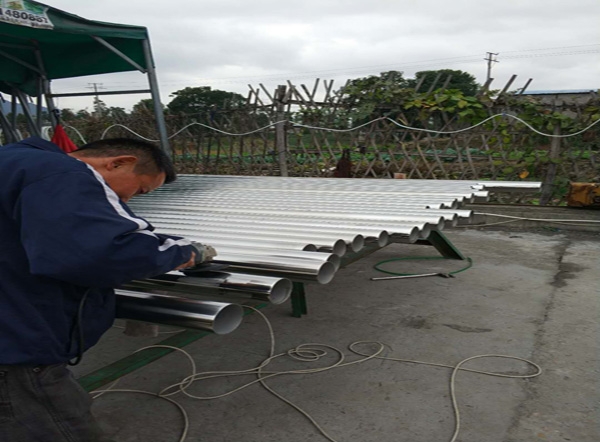 ASTM 304 sanitary stainless steel pipe
china manufacturer 304 sanitary stainless steel pipe price/material/wenzhou 304 sanitary stainless steel pipe price,The special properties of austenitic stainless steel sanitary seamless pipe
Price:US $750 - 2000/ Ton

ASTM 304 sanitary stainless steel pipe
china 304 sanitary stainless steel pipe price/material/wenzhou 304 sanitary stainless steel pipe price
The special properties of austenitic stainless steel sanitary seamless pipe
1. Excellent corrosion resistance: the rust and corrosion resistance of stainless steel are due to the formation of chromium-rich oxide film (passivation film) on its surface.The non - rust and corrosion resistance are relative.Experiments show that the steel in the atmosphere, the weak medium such as water and nitric acid oxidation, such as medium, its corrosion resistance would be increased with the increase of the water content of chromium in steel, is directly proportional. When the chromium content reaches a certain percentage, the corrosion resistance of steel is mutated, that is, from easy to rust is not easy to rust, never corrosion resistant to corrosion.Due to the surface of stainless steel can form a thin layer of protective film, although this protective film is about 3 x 10-6 mm, but very strong, even if be destroyed, as long as having oxygen, can immediately regeneration and prevent rust, as long as know the characteristics of stainless steel and used correctly, such as pipes or up to 100 ℃ hot water less corrosive conditions, almost don't have to worry about will rust, also need not worry about common in galvanized steel pipe caused by the "bumps" rust phenomenon such as inner diameter decreases or resistance increases, the water will not be blocked.
2. Sanitary stainless steel pipe is reliable and does not need to worry about red water, green water and other phenomena.
3. Because of its light weight, it can be easily transported and constructed and reduce costs.Due to corrosion resistance and excellent mechanical properties, thin-walled stainless steel pipe only needs about one-third of the thickness of galvanized steel pipe.Therefore, the weight of the pipe material is greatly lightened, and the cost is also reduced, making the handling easier and installation more convenient.
4. Torsion: the surface hardness of austenitic stainless steel sanitary seamless pipe is generally less than 15 due to annealing and solid solution treatment, so it can be processed by bending pipe and expanding mouth.In the construction site, due to the construction site, the limitation of space and construction tools, construction personnel often USES plastic pipe and not forced by construction standard construction, therefore, it is necessary to consider distortion factor of pipe and pipe joints.