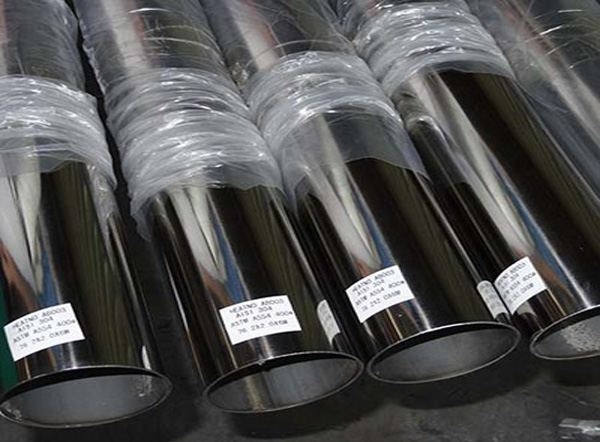 316L stainless steel sanitary tubing
316L sanitary stainless tubing in the pharmaceutical, food, beer, drinking water, biological engineering, chemical engineering, air purification, aviation, nuclear industry on national economic development in various fields such as industry more widely used, every year there are a large number of imports
Price:US $ 250 - 460 / Ton

316L stainless steel sanitary tubing
316L sanitary stainless tubing in the pharmaceutical, food, beer, drinking water, biological engineering, chemical engineering, air purification, aviation, nuclear industry on national economic development in various fields such as industry more widely used, every year there are a large number of imports.The technology, equipment, performance and quality of sanitary (food-grade) seamless stainless steel tube are introduced here.This tube belongs to the most advanced and precise level in China has been widely used and exported abroad.
Production process of 316L sanitary stainless steel tubing
Steelmaking, rolling round steel, perforated, cold drawing, cold rolled, bright annealing, inner surface polishing, surface polishing, inspection acceptance, packaging warehousing.
Our factory produces sanitary seamless stainless steel tubing from cold drawing.
316L stainless steel sanitary grade tubing production of several key equipment:
1, cold drawn pipe bender: round steel perforated tubes, the general tubes for the Ф 65 * 5 mm or Ф 100 * 7 mm.General industrial hygiene grade stainless steel tube from Ф 14 to Ф 200 * 3 mm * 1 mm, so need expansion pipe and pull small, want to have cold drawn pipe bender.Sometimes several tube expansion or tubules are required, and annealing (heat treatment) and pickling cycles are carried out.
The type and specification of cold drawing tube machine, core rod type and specification are not described.
The main advantages of cold drawing are: high production efficiency;It is convenient to change product specifications in production and has great flexibility.The equipment and manufacture of the tool and the structure maintenance of the equipment are relatively simple.
The main disadvantage of cold drawing is that the amount of deformation is small, so there are more processing times and longer production cycle.Metals consume a lot.The inner and outer surface of the tube is not clean enough.
2. Multi-roll cold-rolling pipe mill: it is a key equipment for manufacturing sanitary seamless stainless steel pipe in China.After cold-drawn steel pipe was used as blank, the inside and outside diameter and wall thickness of the tube after cold-rolled were positive or negative less than 0.02-0.05mm, and the inside and outside surface smoothness Ra was less than 0.8m, and the wall thickness was 0.5mm.After polishing, the inner and outer surface of the polished pipe can be as much as 0.2-0.4 in Ra (such as mirror).
The types and specifications of the multi-roll cold rolling mill, the types and specifications of the mandrel are not described.
After cold rolling, the biggest drawback of the tube is the hard state, that is, the high buckling coefficient, not suitable for expansion, bending, strictly speaking or not in accordance with the national standards, so to conduct hot solid melting treatment (annealing).
In general, stainless steel pipe by the ordinary thermosetting after melting treatment furnace stove (milk), tube inside and outside surface oxide skin need pickling, that destroyed the original cold rolled tube inside and outside surface finish, after a small bump, tube surface finish standard can not meet the hygiene level.Therefore, gas protection and bright annealing furnace should be selected.
3. Gas protection and bright annealing furnace: it consists of two parts, the furnace body and ammonia decomposition equipment of the bright annealing furnace.

Bright annealing furnace body: the main structure is round section muffle tank, which adopts heating method of high temperature heating wires arranged on both sides and bottom, ammonia decomposing gas as protective gas and circulating cooling gas.Structure is compact, safe in operation and reliable control and easy maintenance, furnace temperature uniformity (temperature up to 1150 ℃), tongyuan low dissipation, can make full use of shielding gas, cooling speed, guarantee to prevent the chromium carbide precipitates out again, all chrome carbide completely fixed into the austenitic matrix, changed the original cold rolled tube after hard and metallographic organization, really achieve the goal of solid solution treatment.

Complete set of equipment for ammonia decomposition: the pure liquid chlorine is decomposed into 70% hydrogen and 30% ammonia gas, and the air (oxygen) is filled into the furnace to drive away the air (oxygen), the smaller the air is.

The stainless steel tube is soft after being treated by the gas protected bright annealing furnace. There is little oxide skin on the inside and outside surface, no need for pickling treatment, and the inside and outside surface of the tube is kept clean after cold rolling.