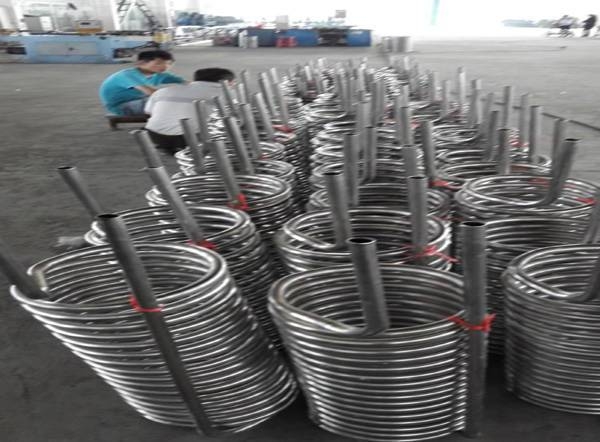 1/4 stainless steel tubing coil for heat exchanger
Zheheng steel specializes in the production of stainless steel heat exchangers tubing such as stainless steel coil tubing, stainless steel threaded pipe, 15 years manufactured experience
Price:USD 4.6 /kgs - 4.8 /kgs

1. Product specification: outside diameter 8-22*0.6-2.5(mm)
2. Annealing temperature :1040-1150 degrees Celsius
3. Automatic welding visual tracker: automatically adjust the deviation of the welding needle to ensure the welding quality.
4. On-line eddy current detector, detecting the quality defect of alarm on-line welded pipe.5. Water pressure test: pressure 2PM
6. Pressure preservation test: pressure 2PM, over 5 hours.
application:
Stainless steel tubing for industrial use: heat exchanger, boiler, petroleum, chemical, chemical fertilizer, chemical fiber, pharmaceutical, nuclear power, etc.
Stainless steel tubing coil for fluid use: beverage, beer, milk, water supply system, medical equipment, etc.
Stainless steel tubing coil for mechanical structure: printing and dyeing, printing, textile machinery, medical equipment, kitchen equipment, automobile and ship accessories, construction and decoration, etc.
Stainless steel bright coil tube: welded by stainless steel grade, the wall can be reduced from thick to thin. This process can make the wall thickness even and smooth, and the wall can be stretched without welding seam.It is seamless to the naked eye, but its process is decided by the welded pipe.The process of reducing the wall is accompanied by bright annealing, so that the inner and outer walls will not form an oxide layer. The inner and outer walls are bright and beautiful, which is really what medical products need.In the next process, the diameter should be fixed, that is, the large drawing and small craft should be adopted to determine the outer diameter. Generally, the tolerance of the outer diameter can reach plus or minus 0.01mm.
Zheheng steel specializes in the production of stainless steel heat exchangers tubing such as stainless steel coil tubing, stainless steel threaded pipe, stainless steel corrugated pipe, stainless steel u-shaped tube and other stainless steel heat exchangers tubing.
stainless steel tubing photos show: