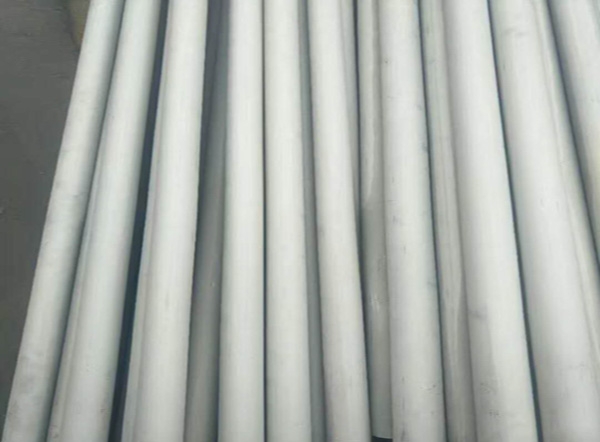 B622 N06022 Hastelloy c22 alloy steel pipe
Hastelloy C-22 is a versatile Ni-Cr-Mo-W alloy with better comprehensive corrosion resistance performance than other Ni-Cr-Mo alloys, what is the chemical composition,Physical properties,Hastelloy C alloy minimum mechanical properties in the room temperature
Price:US $200 - 250/ Ton

Features:
Hastelloy C-22 is a versatile Ni-Cr-Mo-W alloy with better comprehensive corrosion resistance performance than other Ni-Cr-Mo alloys, including Hastelloy C-276, Hastelloy C-4 and Inconel 625. Hastelloy C-22 has outstanding resistance to pitting, crevice corrosion and stress corrosion cracking. It has excellent resistance to oxidizing aqueous media including wet chlorine and mixtures containing nitric acid or oxidizing acids with chloride ions. It also offers optimum resistance to environments where reducing and oxidizing conditions are encountered in process streams. So it can be used where "upset" conditions are likely to occur or in multi-purpose plants. Hastelloy C-22 has exceptional resistance to a wide variety of chemical process environments, including strong oxidizers such as ferric and cupric chlorides, chlorine, hot contaminated solutions (organic and inorganic), formic and acetic acids, acetic anhydride, and seawater and brine solutions. It resists the formation of grain boundary precipitates in the weld heat-affected zone, thus making it suitable for most chemical process applications in the as-welded condition.

Note: Hastelloy and C-22 are registered trademarks of Haynes International, Inc. Inconel is a registered trademark of the Special Metals Corporation group of companies.
Chemical composition
Alloy
%
Ni
Cr
Mo
Fe
W
Co
C
Mn
Si
V
P
S
C
Min
Rest
14.5
15
4
3
Max
16.5
17
7
4.5
2.5
0.08
1
1
0.35
0.04
0.03
C22
Min
Rest
14.5
15
4
3
Max
16.5
17
7
4.5
2.5
0.01
1
0.08
0.35
0.04
0.03
Hastelloy C Physical properties:
| | |
| --- | --- |
| Density | 8.9 g/cm³ |
| Melting point | 1325-1370 ℃ |
Hastelloy C alloy minimum mechanical properties in the room temperature
| | | | |
| --- | --- | --- | --- |
| Alloy state | Tensile strength Rm N/mm² | Yield strength R P0. 2 N/mm² | Elongation A 5 % |
| C /C22 | 690 | 283 | 40 |
What are the characteristics of Hastelloy C/C22?
Excellent corrosion resistance in reducing environments
Exceptional resistance to strong solutions of oxidizing salts, such as ferric and cupric chlorides
High nickel and molybdenum contents providing good corrosion resistance in reducing environments
Low carbon content which minimizes grain-boundary carbide precipitation during welding to maintain resistance to corrosion in heat-affected zones of welded joints
Resistance to localized corrosion such as pitting and stress-corrosion cracking
One of few materials to withstand the corrosive effects of wet chlorine gas, hypochlorite and chlorine dioxide
In what applications is Hastelloy C/C22 used?
Pollution control stack liners, ducts, dampers, scrubbers, stack-gas reheaters, fans and fan housings
Flue gas desulfurization systems
Chemical processing components like heat exchangers, reaction vessels, evaporators, and transfer piping
Sour gas wells
Pulp and paper production
Waste treatment
Pharmaceutical and food processing equipment